We can prepare you for work in cold weathers and harsh environment on and offshore
Operation SNOWFLAKE – a NorthQ Cold Climate Service
– Safeguard and control Cold Weather Operations
NORTHQ "Cold Weather Operations & Services are routed through general principles for operations in cold weather conditions.
A Service developed for worldwide application and customization to international, federal, state and local legislation, standards and best practices.
OBJECTIVE for Cold Weather Operations is to ensure that the offshore units are capable of- and suitably prepared for operations in cold weather conditions. By setting requirements to functions, systems and equipment, critical for safety under cold weather conditions.
SCOPE – Ready for the Worst. . . .
No clients or solutions are identical; hence . . . "Snowflake" There are no identical snowflakes.
NorthQ' Customized Step Approach.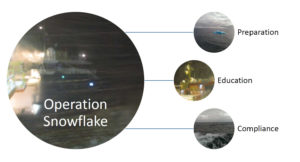 Preparation; Verifying or producing your Procedures for Winterization and Cold Weather Checklists.
Education; Operationalize the use of Checklists, Share lessons learned, Operationalize Cold Weather impact on operations and Human Factors.
Compliance; Safety Leadership, Behavioral & Belief Based Safety